OFFICE OPEN
The health risk level has decreased and we are once again open to the general public.
The health risk level has decreased and we are open Monday-Thursday 8:30 AM – 3:30 PM and Fridays by Appointment to the general public.
We strongly encourage masks and hand sanitizer be applied prior to entry. We ask that no individuals who have tested positive for COVID-19 in the last 90 days enter the premises.
Terra Works, Inc. has a long history of supporting our communities. Our number one priority is ensuring the health and safety of our associates, customers, and communities, and one of the ways we're doing that is by being extremely proactive regarding COVID-19/ Pandemic Management plan. We have a contact email for anyone who has any concerns related to COVID-19, [email protected]. We encourage you to stay safe, wash your hands, and practice social distancing. We're also encouraging our associates and customers to do what they can to take care of themselves and stay healthy and safe during these challenging times.
You can find up-to-date information about cases in Pennsylvania at pa.gov/coronavirus.
Safety First
Terra Works is committed to a safe workplace for all employees. It is our goal to send each and every employee home to his or her family in the same condition their families sent them to us. Terra Works' proven safety record and commitment to "Zero Incidents" reflects management's affirmation of employee welfare.
In 2016, Terra Works brought in Ryan Koser, a Slippery Rock University Safety Management Graduate to head up the safety department. The safety department has seen dramatic changes since the arrival of Ryan. Terra Works Experience Modification Rate has dropped down to .786 and has seen significantly drop in incidents since his arrival.
We have developed processes and training to assist in the safe execution of work, but it takes more than that. It involves our company taking an active and constant interest in the prevention of accidents and the protection of our environment. Terra Works striving to meet that every day.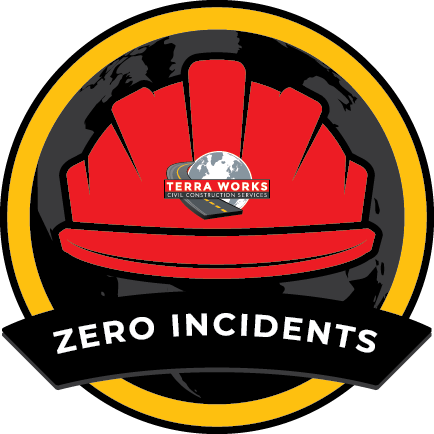 Terra Works, Inc. Current EMR
[ Experience Modification Rate ]
Terra Works, Inc. Man Hours Worked